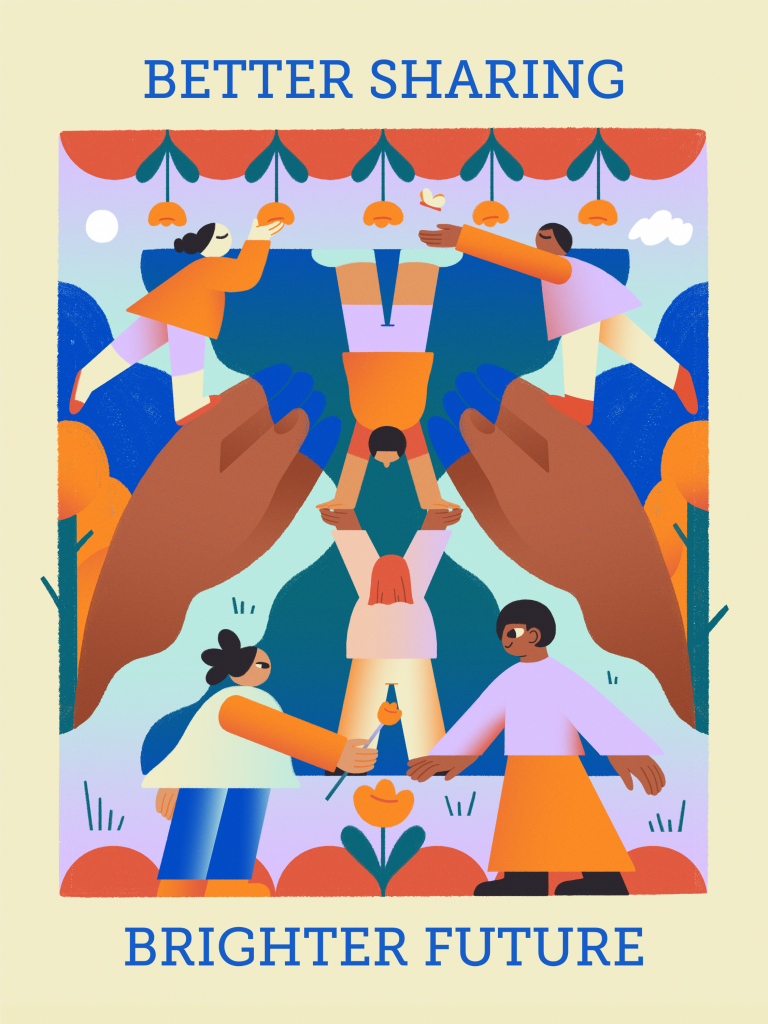 As part of our #20CC anniversary, last year we joined forces with Fine Acts to spark a global dialogue on what better sharing looks like in action. Our #BetterSharing collection of illustrations was the result — we gathered insights from 12 prominent open advocates around the world and tasked 12 renowned artists who embrace openness with transforming these perspectives into captivating visual pieces available under a CC license.
Each month throughout 2023, we will be spotlighting a different CC-licensed illustration from the collection on our social media headers and the CC blog. For July, we're excited to showcase "Better Sharing For Brighter Future" by Janice Chang. The piece, licensed under CC BY-SA 4.0, was inspired by a quote from Tyler Green, Author, Historian, Art Critic and Producer/Host, The Modern Art Notes Podcast:
"It means understanding that sharing and open content is a means, not an end. For me, it means understanding that sharing and open content is a means, not an end, that open content and open access policies aren't an end in and of themselves. Although within the context of an individual project, it's an excellent end. But what we get, we the community of scholars, we the broader community of people, what we get is an opportunity to understand how this material fits within the worlds around us, allowing new and different ideas to more fully inform us. My favorite example is always going to be the more art and visual material, whether it's photographs or engravings in 19th century magazines. The more we understand how images have worked across histories, the more we will understand how impactful artists and visual makers, engravers, whomever have been. And so I think that open access is probably the primary and most important means through which we will understand how artists have impacted the world."
Meet the artist:
Janice Chang is a Los Angeles born and raised illustrator based in Brooklyn, NY. Much of her work takes on an honest representation of the sometimes humorous and bendy limbs of her characters as a way to engage in conversations around social and interpersonal issues. She works primarily for editorial, commercial, advertising, and motion clients, but also loves to explore painting murals, animation, and making sculptures.
Follow Janice on Instagram: @janiceechang
The full #BetterSharing collection is available on TheGreats.co to be enjoyed, used and adapted, and then shared again, by anyone, forever. View the full collection >>